Size Scossa Studio 2: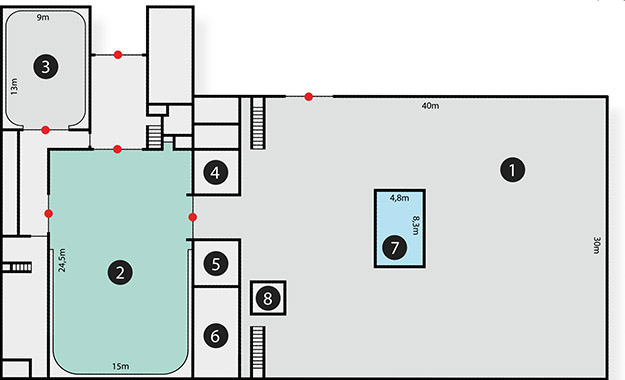 Length: 24.50 meter
Width: 15.00 meter
Height to railsystem: 8.50 meter
Power supply
Other information
Insulated sliding door between studio 1 and 2: height: 4.40 meter, width: 4.50 meter.

Overhead sliding door studio 2: height: 4.40 meter, width: 4.50 meter.

Studio floor can support up to 1670 kg per m2, Traffic-class 3.
Railsystem is located at 8.50 meter height.
Complete roof-railsystem with five movable and separable, crosswise rails.
Powered catwalks located at the long sides if the studio at 7 meters height.
Luminous ceiling made of white projection screen, on 7.5 x 9.5 meter Altrex frame. Moveable across the studio en controlled by four tackles.
Canteen: 100 m2, 50 pers. incl. complete furnished, professional kitchen.
Production office on the ground floor: 16 m2.